Our Services
We design-develop-supply-implement and maintain technology solutions for our clients. Our services include wide variety of desktop/web based applications and mobility solutions, which, enables our client to operate, manage and communicate efficiently & effectively. We also consult for infrastructure and appropriate interior for tech savvy space management in enterprises.
We provide one stop solution for all kind of web requirements. Starting from logo design, basic websites, we make portals, e-commerce site, CMS (Content Management System), Our websites are responsive and aligned with branding. By SEO (Search Engine Optimization) we add value to our client's web presence.
We provide desktop or web based applications and mobility solutions and we do it customized as per requirement. Our tailored solutions can be software to run business operations (ERP, PMS, P.O.S, Sales Tracking,etc. ), application for presetting and communicating and various digital kiosks for your business.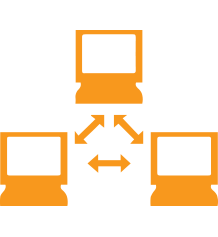 We provide consulting and implementation support for IT infrastructure, be it LAN, MAN, WAN or server setup for any enterprise. We can offer you supply-deployment of hardware & software for setting up IT lab, datacenter, customized IT resource center or any other IT infrastructure required for your enterprise.
We also support our clients to understand their environmental requirement to build an IT savvy interior. We have consulted and built workstations for lab, product showcasing center, server rooms, etc. If you are looking for a turnkey solution provider for your enterprise automation Solution Art is the right choice.